The 6th International Festival of NanoArt
organized by NanoArt 21 will be hosted at Hotel Eden Roc in Sant Feliu de Guíxols, Spain, on September 24 – 30, 2021, about 100 Km North of Barcelona. The festival is running in parallel with the 13th International Conference for Physics of Advanced Materials (ICPAM-13) organized by Alexandru Ioan Cuza University of Iasi, Romania in collaboration with other academic institutions.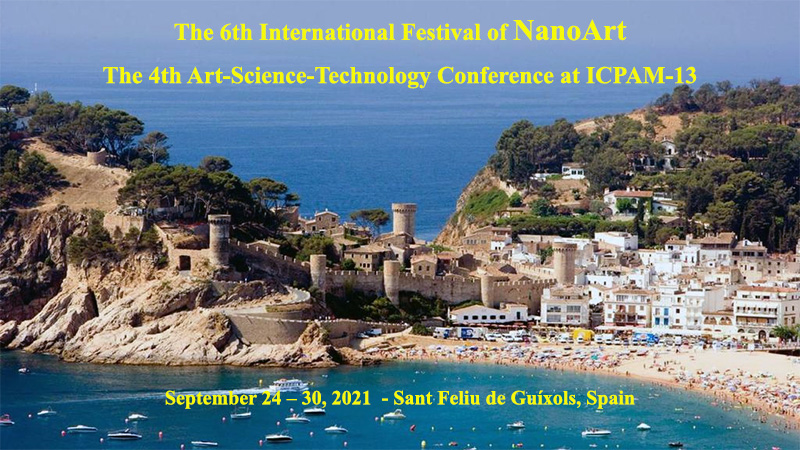 Artists and scientists are invited to participate with maximum 5 works per artist/scientist. The previous editions of the festival were held in Finland, Germany, Romania (2 editions), and Greece. Artists are strongly encouraged to collaborate with scientists at local universities. Interested artists could also use the three high resolution monochromatic electron scans provided on NanoArt K12 competition page. Click on the thumbnails to open and download the high resolution images. Participating artists may alter one or all provided images in any artistic way to create original NanoArt work(s). Please send web images of artworks by e-mail to nanoart21@gmail.com
Include: Artist's Name, Country, Website, Email, Artwork Title, Final Image Size and Resolution, Artistic Process, Comments. The image files must be JPEG format at a resolution of 72 dpi with the longest dimension of maximum 800 pixels. If your work will be accepted, you will be contacted by email with additional information on artwork size, resolution, and pricing for printing and hanging (last editions the cost was about $30/print, size A2).
Submission Deadline:

July 31, 2021
Previous edition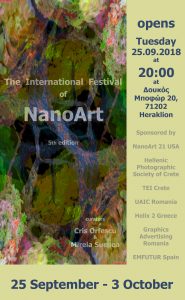 The 5th International Festival of NanoArt
organized in 2018 by
Nanoart 21
was hosted in Heraklion, Greece by the Hellenic Photographic Society of Crete. The show was curated by artist/scientist Cris Orfescu (USA) founder of Nanoart 21 and artist/scientist Mirela Suchea (Romania). The previous editions of the festival were held in Finland, Germany, and Romania. Around 70 artworks authored by artists from 11 countries have been shown in the Hellenic Photographic Society of Crete exhibit hall. The artworks were donated to the Technological Education Institute of Crete.
The exhibition, initially designed to be a travel show to spread around Europe this new art discipline has now a permanent location at Alexandru Ioan Cuza University in Iasi, Romania: THE 1st PERMANENT EXHIBITION OF NANOART IN THE WORLD.