FREE Entries – Open to all K12 Students – Seed Images of 3 Nanostructures are provided for further Artistic Creation – Top 10 Works will be Exhibited for FREE at the 5th International Festival of NanoArt
Submission Deadline July 31, 2018
NanoArt is a new art discipline at the art-science-technology intersections. To read more about NanoArt and Nanotechnology visit nanoart.org website and the Nanoscience and Nanotechnology Learning Module for NanoArt K12™.
Jurors: Cris Orfescu, scientist and artist working with different media including digital art, murals, acrylic and oil painting, mixed media, faux painting, trompe l'oeil, collage, graphics, animation, web design, video, multimedia, photography. Orfescu founded NanoArt 21™ and the Academy of NanoArt. For more than 30 years, he is experimenting and perfecting a new art form, NanoArt, which reflects the transition from Science to Art through Technology. Orfescu was showing internationally his awarded works in USA, Italy, France, Finland, Korea, UK, Ireland, Spain, Germany, Colombia, Romania, Israel, Greece in numerous solo and group exhibitions. His art was commissioned for public and private collectors. Mirela Suchea, scientist working for the last decade in research of advanced functional materials for environmental and energy applications. As an artist, she is active in NanoArt and Photography. She had participated in various international and national exhibitions. Her artistic activity is presented in her website "NanoArt and more". As a scientist she is the author and coauthor of over 30 ISI journal publications in her research field, with over 750 citations and a Hirsh index=13. She is presently a Member of Research Team of the Center of Materials Technology and Photonics, School of Applied Technology at Technological Educational Institute of Crete, Greece.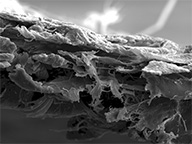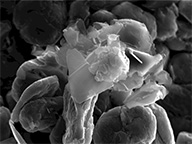 For this competition, artist / scientist Cris Orfescu is providing 3 high resolution monochromatic electron scans. Click on the thumbnails to open and download the high resolution images. Participating students may alter one or all provided images in any artistic way to create original NanoArt work(s). Students are strongly encouraged to collaborate with scientists at local universities and participate with their own images as long as these visualize micro or nano structures. Students can participate with up to 5 artworks. Please send web images of artworks by e-mail to k12@nanoart21.org and include: Student's Name, Grade, School, City, Country, Artwork Title, Final Image Size and Resolution, Artistic Process, Comments, Opinions, Ideas (students can express their opinions about the NanoArt K12™ program and propose new ideas for NanoArt promotion, competitions, and shows). The web image files must be JPEG format at a resolution of 72 dpi with the longest dimension of maximum 800 pixels. All accepted works will be displayed on the NanoArt K12™ Exhibition page together with student's name, school, grade, and a short description of the artistic process. The Top 10 works will be exhibited for free at the 5th edition of The International Festival of NanoArt.
Copyright of entered artworks remains with the student who agrees by submitting his/her works to grant permission to NanoArt 21™ and Cristian Orfescu to use the submitted material in exhibitions on the nanoart21.org, nanoart.org and related websites and other media for marketing purposes. You must accept that all entries are archived and displayed online. Your permission to display the entry for the competition and later in the archives cannot be reversed and its use or removal is entirely at the discretion of NanoArt 21™ and Cristian Orfescu.
NanoArt International Online Exhibitions   I  NanoArt   I  NanoArt K12™ Gallery